Abgent at the TSRI 2014 Vendor Show
May 09, 2014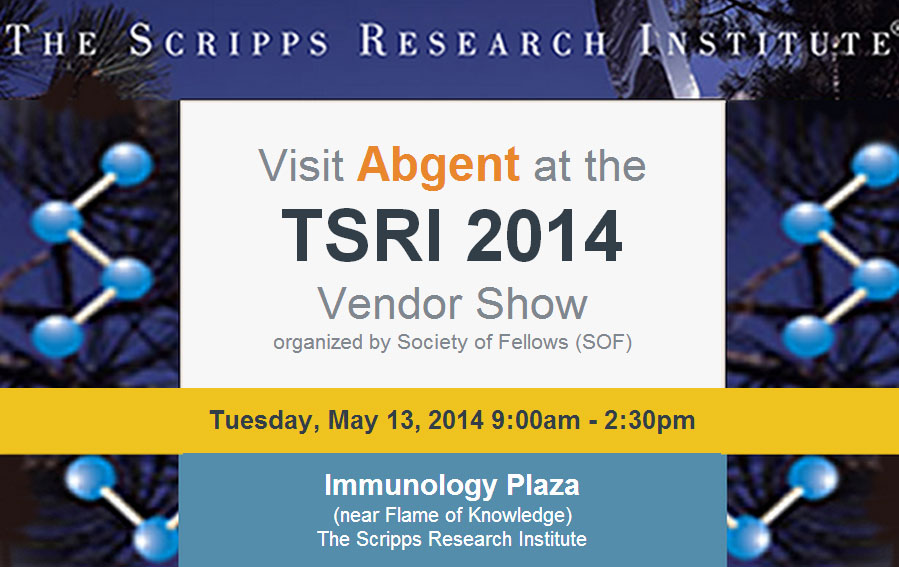 Abgent, a WuXi AppTec company, is a leading manufacturer of primary antibodies with more than a decade of experience. We strive to meet the ever changing demands of research and drug discovery through a thoughtful target selection process and strengthened validation-standards.
Stop by Abgent table # 63
for special offers on products and services!
Company highlights:
Most antibodies are produced in-house to ensure product quality and reproducibility.
Over 1,000 new antibodies are released per year.
Striving for proteome-wide antibody coverage with a focus on autophagy, stem cells, and neurodegeneration.
Featuring the Abgent "Crown" line of premium antibodies.
Evaluation size vials for more than 10,000 products.
Our antibody collection includes:
Over 18,000 primary antibodies
Antibodies for most human kinases
More than 500 phospho-specific antibodies
In addition, Abgent offers the highest quality services including custom antibody development, custom peptide synthesis and custom protein expression. Synthesis of difficult peptides, including long peptides, is a core competency of Abgent.
We offer high quality, rapid turnaround and personal support for all Abgent services.