Abgent's Oncogene Expression Reference Guide
Mar 03, 2015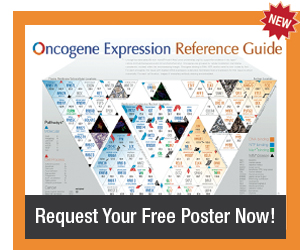 Dear Researcher,
Check out Abgent's Oncogene Expression Reference Guide. This wall chart is an informative summary of key immuno-detectable oncogenes, organized by cellular location, expression levels, binding partners, pathway, disease, and more.
Request your complimentary hardcopy here
Abgent provides more than 6000 monoclonal and polyclonal antibodies against protein targets known to be involved in cancer, with a focus on key and emerging pathways. Lot-to-lot testing assures reliable performance, and technical assistance from Ph.D. staff is just a phone call away. Need a custom antibody or peptide? Request a quote here.